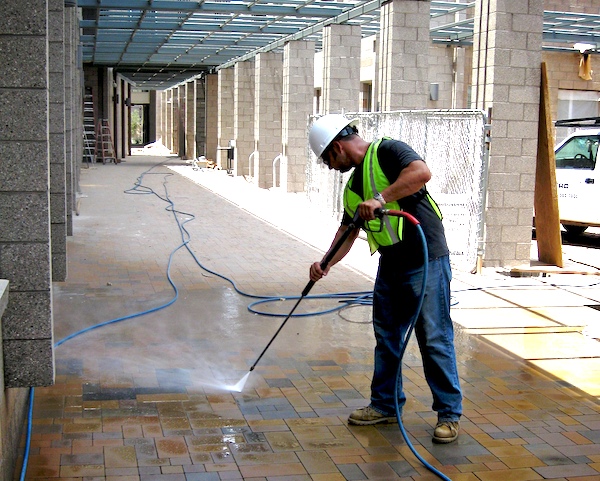 Red stain removal explained (Soft Washing)
Gordon specialise in cleaning colour render/spray plaster and cladding. This type of plaster was used everywhere in the building boom including my own home. After trial and error with our home and every product in DIY stores I stumbled across a little miracle that worked for us, and then for my customers that had the same issue and from there this soft wash has been my go to formula.
This chemical based cleaning alternative is very effective for the removal of algae and fungus on walls and cladding.
ROOF CLEANING & PAINTING.
Do you hate that moss on your roof? Are you tired of cleaning it off your footpaths, car etc. would you like to see a difference that lasts!!
Moss and Lichen on the roof takes from the appearance of your house reducing its value. It is also bad for your roof. Left untreated it will continue to grow year after year feeding off of your tile or slate. It blocks up your gutters and down pipes and can lead to dampness.
But it's in winter that it does most damage. In the frost it expands in the joints and causes tiles or slate to break allowing water to seep into your house. Cherry Picker Services specialize in roof cleaning. We can clean your tile or slate roof using our "Soft Wash System". If you decide to have your roof tiles sealed or painted Cherry picker Services will first treat your roof to kill all moss, lichen and fungus.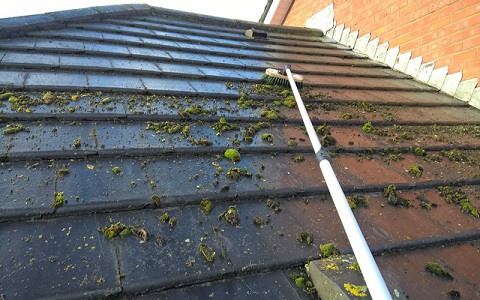 Doing this enhances the cleaning process and helps to ensure that when we have removed the moss and are pressure washing your roof we will not spread live spores to your drive, grass or onto neighboring properties. Cherry Picker Services use "soft washing" as the preferred method of cleaning, walls, roofs, patio areas etc.
Soft washing will not remove paint, stone chips or plaster from your wall or remove the grout from between paving slabs etc. We will combine soft washing with power washing in some situations. Doing this allows us to clean more efficiently and with less pressure resulting in a better clean and less erosion of the surface being cleaned.
We offer soft washing for domestic, commercial, industrial premises & public buildings, suitable for houses, offices, factories, golf clubs, schools, conservatories, cladding, walls, pathways, patios, driveways and car parks.
Our Soft Washing is suitable for cleaning all types of surfaces such as cement, concrete, stone, brick walls, roofs, slates, tarmacadam, steel cladding, plastics and timbers. We use the most modern equipment to restore surfaces to their original finish in the most environmentally friendly way.